Jamie Pearson
floral tributes, orders of service, memorials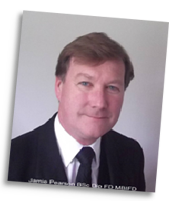 COVID-19: Changes to Funerals
In line with the latest government and industry guidelines, the way funerals can be arranged and conducted has changed:
Death Certificate & Registration
You are no longer required to collect the death certificate or to attend the Registrars personally.
Registration has now to be carried out by phone and the necessary documents are then emailed directly to the Funeral Director. 
East Dunbartonshire Registrars 0300 123 4510
Stirling Council Registrars 01786 823 300 
North Lanarkshire Council Registrars 01236 632 740
Glasgow Council Registrars 0141 287 7677
Funeral Arrangements
The Funeral Director can no longer visit you at home for arrangements, but can still collect someone who has died.
The Funeral Director can now make all the funeral arrangements by phone or by email and can complete all statutory documentation electronically.
It's still possible to make special arrangements for up to 2 people to meet at the Lennoxtown office.
Funeral Restrictions
Numbers attending are restricted to 5 family members (or up to 20 depending on the location).
Family members are no longer allowed to carry the coffin.
No limousine for the funeral (social distancing rules).
Most florists closed (but you can still bring your own flowers).
No orders of service or hymn books.
Funeral Solutions
It's still possible to have a meaningful farewell, your Minister, Priest or Celebrant can conduct a very intimate committal service or you can just say your farewells with your close family and some appropriate music and perhaps plan an event for the future….