Simple funerals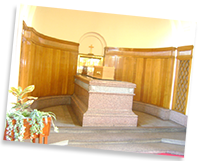 Nowadays not everyone wants to have the whole formal funeral procession and everything that goes with it (much to the surprise of some of my collegues!).
I've helped many families create their own personal tributes, sometimes it's simple things like decorating the coffin with a favourite picnic blanket and other memories, personalising the coffin with pictures or flowers or dispensing with the traditional funeral vehicles. You may want to organise the funeral ceremony yourself, purchase your own coffin*, organise the cemetery or crematorium**.
You'll find me completly flexible and willing to try anything. (I will advise you if I don't think something will work well mind you!). 
Whatever you decide I'll help you through the process and always be ready to step in if you feel overwhelmed.      


Whilst I would never put anyone off trying, it's worth knowing:

*Some families have found purchasing a coffin themselves quite frustrating, dealing with correct sizing, construction and delivery to their home address in time for the funeral.

**Crematoriums are sometimes not the most accomodating to families arranging the cremation themselves and often insist on a Funeral Director to authorise the application paperwork for coffin complience. Hopefully this will improve over time, although we can work round this in the meantime.